Ubisoft in hot water again
A report from Bloomberg, which investigates recent reports of harassment, abuse and toxicity within Ubisoft, shows how the publisher's sexist and misogynistic culture has affected the games it's produced. The report suggest that recent Assassin's Creed games were supposed to have a much larger role for female protagonists but they were cut short by the higher ups.
According to Bloomberg, it dates all the way back to Assassin's Creed Syndicate. This was originally going to feature a more even split between its two playable leads, twins Jacob and Evie Frye. After meddling from executives, including recently-resigned Serge Hascoët, the balance became much more skewed and ended up as a rough 40/60 split between Evie and Jacob.
This pattern emerged again for Assassin's Creed Origins. The original story saw protagonist Bayek killed off early in the game to be replaced by his wife Aya. In the final game, Aya has a massively reduced role, with her only really starring in a few ship combat segments, whilst Bayek became the primary lead.
Alexios was never meant to be playable.
A year later, Assassin's Creed Odyssey was going to originally only feature Kassandra as its player character. Hascoët, and unnamed people within Ubisoft's marketing department, claimed that games with female leads wouldn't sell, and so Kassandra's brother Alexios was included as an alternative lead. This probably goes to explain why Kassandra is a more entertaining protagonist and feels more fleshed out than her brother, even if that character development then had to be split in case we chose to play as a male.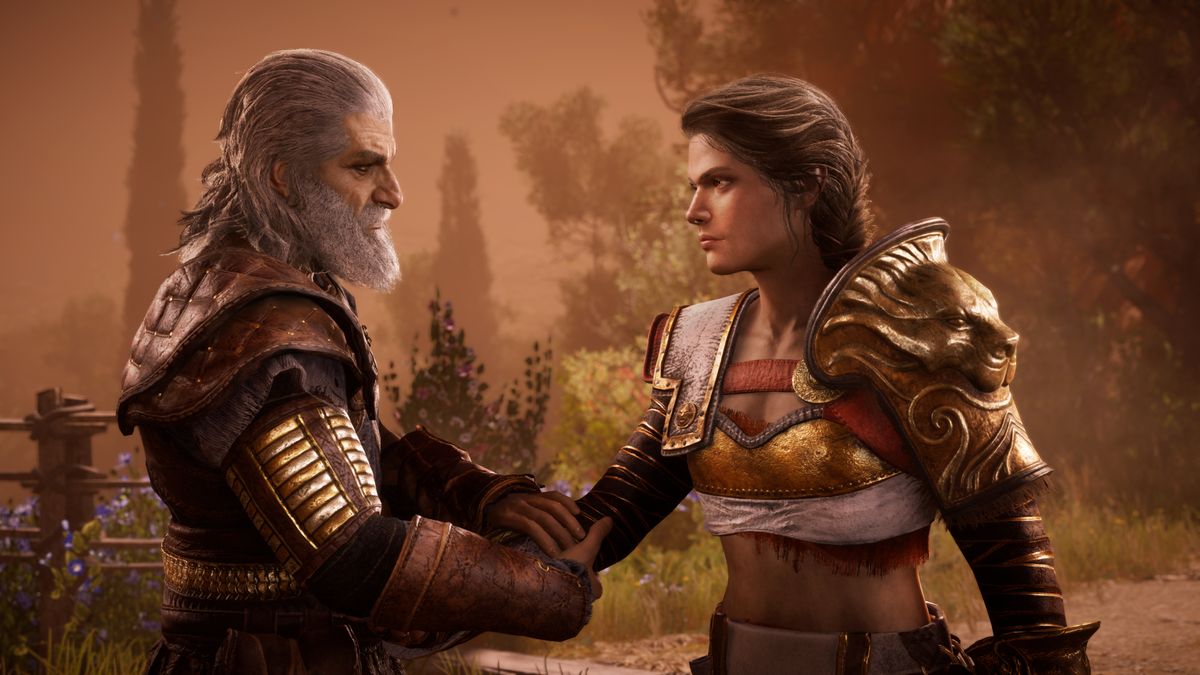 Serge Hascoët was Ubisoft's 'Chief Creation Officer' and was described as the "creative force" of Ubisoft, and one of its most powerful employees behind CEO Yves Guillemot. He was responsible for greenlighting games and could alter the direction of any development as he saw fit. Before he resigned from Ubisoft earlier this month, he had been accused by French newspaper Libération of toxicity, misogyny, homophobia, "libidinous behaviour" (via Thomas Bidaux), and even drugging people with marijuana-laced cakes without their knowledge.
Operation Clean Up
His resignation comes as part of a clean-up operation within Ubisoft. Allegations have reached all aspects of the publisher, with executives, developers and HR all being accused of fostering horrific working environments rife with abuse. On July 2, Guillemot outlined the company's response, including third-parties coming in to reform HR policies and investigations into all the allegations that have been made. However, Guillemot has since come under fire for being the CEO of the company while all of this was going on, with people arguing that he both knew and tolerated the environment until it became too big of a PR headache for him to ignore.
"Ubisoft has fallen short in its obligation to guarantee a safe and inclusive workplace environment for its employees. This is unacceptable, as toxic behaviors are in direct contrast to values on which I have never compromised—and never will. I am committed to implementing profound changes across the company to improve and strengthen our workplace culture."

Yves Guillemot in a statement on July 12
It's strange to think that there hasn't been a mainstream Assassin's Creed game with a female lead. Sure we had Aveline take the titular role in Assassin's Creed: Liberation but that was a spin-off title for the PlayStation Vita handheld console. It's hard to compare that to it's main counterpart; i.e Assassin's Creed III.
It's been over a decade
In fact the last Ubisoft AAA title to feature a female lead would take you all the way back to 2004 in Beyond Good & Evil. Now you might be wondering what the problem is, these games have all worked pretty well (at least after patches anyway) but it's wrong for a studio to claim they are diverse (as all of the opening credits for the AC series do) and then suffer from the bias of Ubisoft's executive decisions.
Having character creators where you can pick your character's gender isn't a problem, and neither is having male leads in your games. The problems arise when stories that could have been told from a woman's perspective are instead diluted by shoving a man in there when they are simply not needed. It makes the games feel lazy and they suffer from it as a result.
What could have been
Imagine an Origins where Aya had to avenge both her son and her husband, and the emotional impact that would have had for the player. Or an Odyssey that really explored the gender dynamics of Ancient Greece and how the emergence of a strong, independent female Spartan warrior contrasted with political views of the time. These games could have used this platform to inform and even reflect on modern society and how far we have progressed from those times.
Hopefully more big companies and AAA titles will be able to deal with and show more modern problems rather than the smattering of Indie titles we get that approach sometimes difficult subjects. Then again it's not unusual for companies to face a backlash over handling these kind of subjects. One only has to look at Naughty Dog and The Last Of Us Part 2 to see what controversial subject matters can do to the review scores and public opinion.
---
Make sure you stick with Any Button Gaming for the latest gaming news, reviews, and features from around the world.
Fancy being social? We're on Facebook, Twitter, and Instagram. Or if videos and/or podcasts are more your thing, why not subscribe to our YouTube and Twitch channels and track us down on Spotify.
And if you wanna show your allegiance to ABG, you'll be happy to know we have our own merch! All proceeds go to helping fund the site.