Slapstick party game Push Your Family is coming to PC on Steam in Early Access this September – the exact date depends on the outcome of the mini-game being released today!
Playing the mini-game could give the developers more slack for the release. Push Your Family is a physics-based party game with wacky family members and slapstick humor.
Up to 4 players come together online or locally as members of a fractious family visiting some hazardous road trip attractions… When familial disagreements get out of hand at these literal tourist traps, the only way to resolve things is to PUSH YOUR FAMILY!
Push Your Family – Announcement Trailer
Push to win in Early Access!
The Early Access release is the first step on the road to Push Your Family becoming a multiplayer party pack of many different game modes.
We're starting with Battle and Quarantine mode, with more on the way! Be the last family member standing in Battle, or try to get disinfected and escape from Quarantine.
The game has already seen a jump start with YouTubers like Stumpt giving the game some praise in December 2020 when releasing a Steam demo, and continued support from Landfall Games (developers behind TABS, Rounds and Stick Fight) alongside Creative Industries Fund NL.
Now it's time to release Push Your Family to a broader audience: the Early Access release will give players the opportunity to provide valuable feedback and support the devs as they develop the game so it can live up to its full potential. A roadmap is set up but the devs are ready to change it in response to the community's wishes.
Looks like play-doh, hits like a ton of bricks
Push Your Family has a visual style inspired by play-doh, with lots of chunky, soft curves and delightful splashes of color everywhere. These family trips are full of dangers, from roller coasters and paddle boats to water guns and giraffes!
Push other players in front of trains and cannonballs, or hit those inviting red buttons – they might do anything. Don't blame us if you unleash waves of vengeful penguins!
Discussing the game's artistic direction and mise-en-scène Meteor Mug artist Steven Vis said: "As long as everything is tinted yellow, I'm fine with it!"
At last everyone has the chance to push their families, as well as pushing us to make the game great! It's going to be a wild ride, and we're looking forward to every bit of it. Before you ask.. no family members were harmed in the process of making this game… yet!

Meteor Mug Game Designer, Bauke Hoekstra
Let's slap crunch time!
Push Your Family will release in September, and that last minute crunch before a release is coming up. But this time players can help out three tired developers by playing a special wipe-out style mini-game…
Can you help keep people entertained and buy the Push Your Family devs a little more time by playing the wipe out game set up at the entrance?
The more times you and your friends take a chance and fall (or get pushed) from the giant clock, the more time the devs will get for that vital polish – like making sure all the popcorn is popped, the mac and cheese is yellow enough, and the big red buttons press nicely!
It's literally wipe-out-time-out, so hop on that clock!
Nobody likes the last minute crunch before releasing a big project – but you can make the difference to three tired devs this time. And even better, top scorers will get a special gift at release…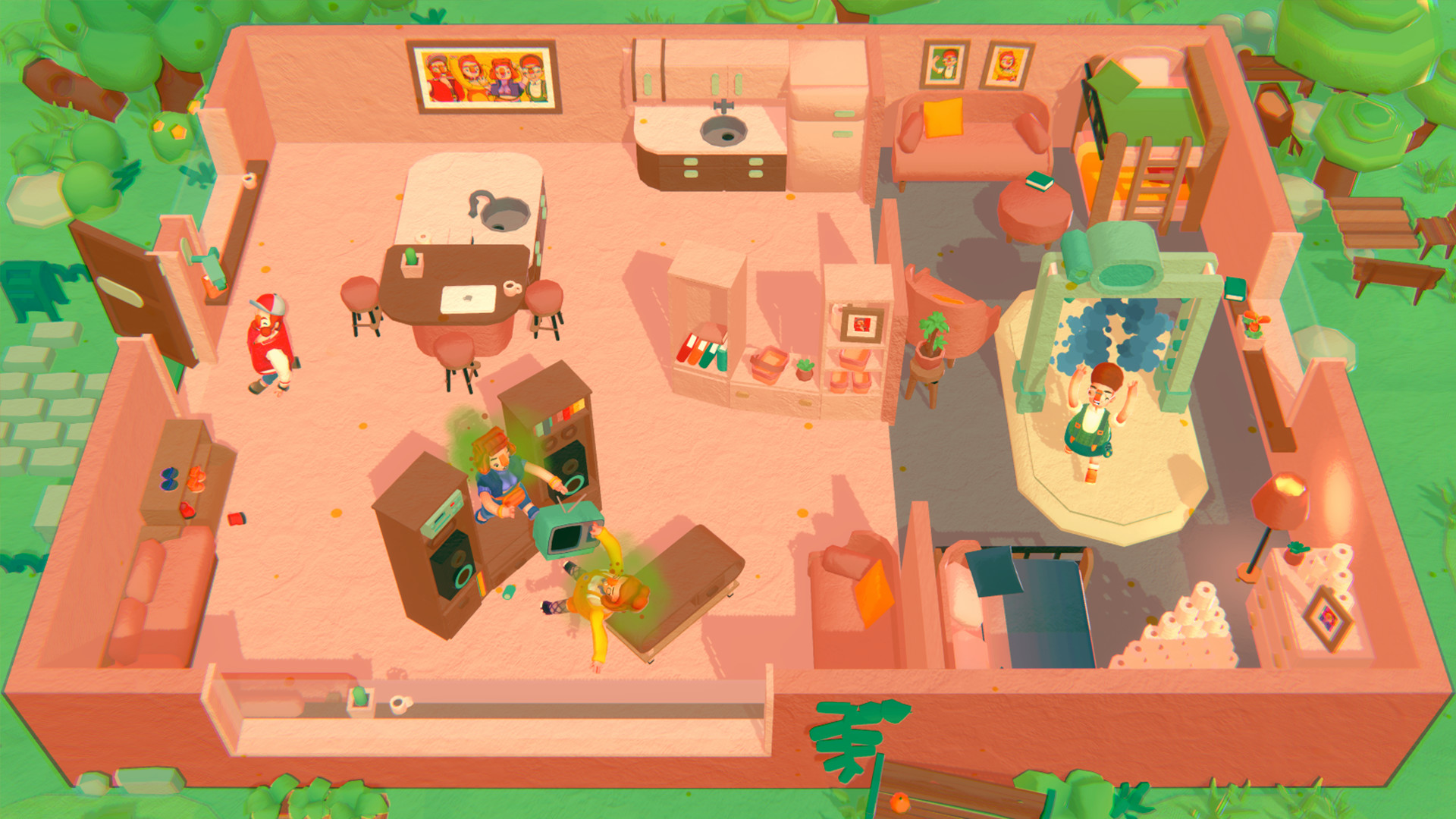 Get slap happy with your wacky family, join now!
---
Be sure to stick with Any Button Gaming and our partners at Stush Gaming for the latest gaming news, reviews, and features from around the world.

And if you wanna show your allegiance to ABG, you'll be happy to know we have our own merch! All proceeds go to helping fund the site.

Don't forget to drop us a comment down below.
Human, friend to the animals and serial procrastinator.
Pessimistic Pompey fan and chocolate addict.
@Zeus_Eagle on Twitter