Nintendo Infographic Shows Road Map of Key Switch Releases for 2020
European Nintendo fans have today received an email laying out the 2020 road map of Nintendo Switch releases.
The infographic shows key dates for games like Darksiders Genesis (February 14th) and Devil May Cry 3: Special Edition (February 20th).
As well as fan favourite Animal Crossing: New Horizons (March 20th) and the full HD remake of Trials of Mana (April 24th).
Also listed is the Expansion Pass for Pokemon Sword and Shield andthe Super Smash Bros: Fighter Pass Vol. 2.
The Infographic
Here's the road map for 2020 in full: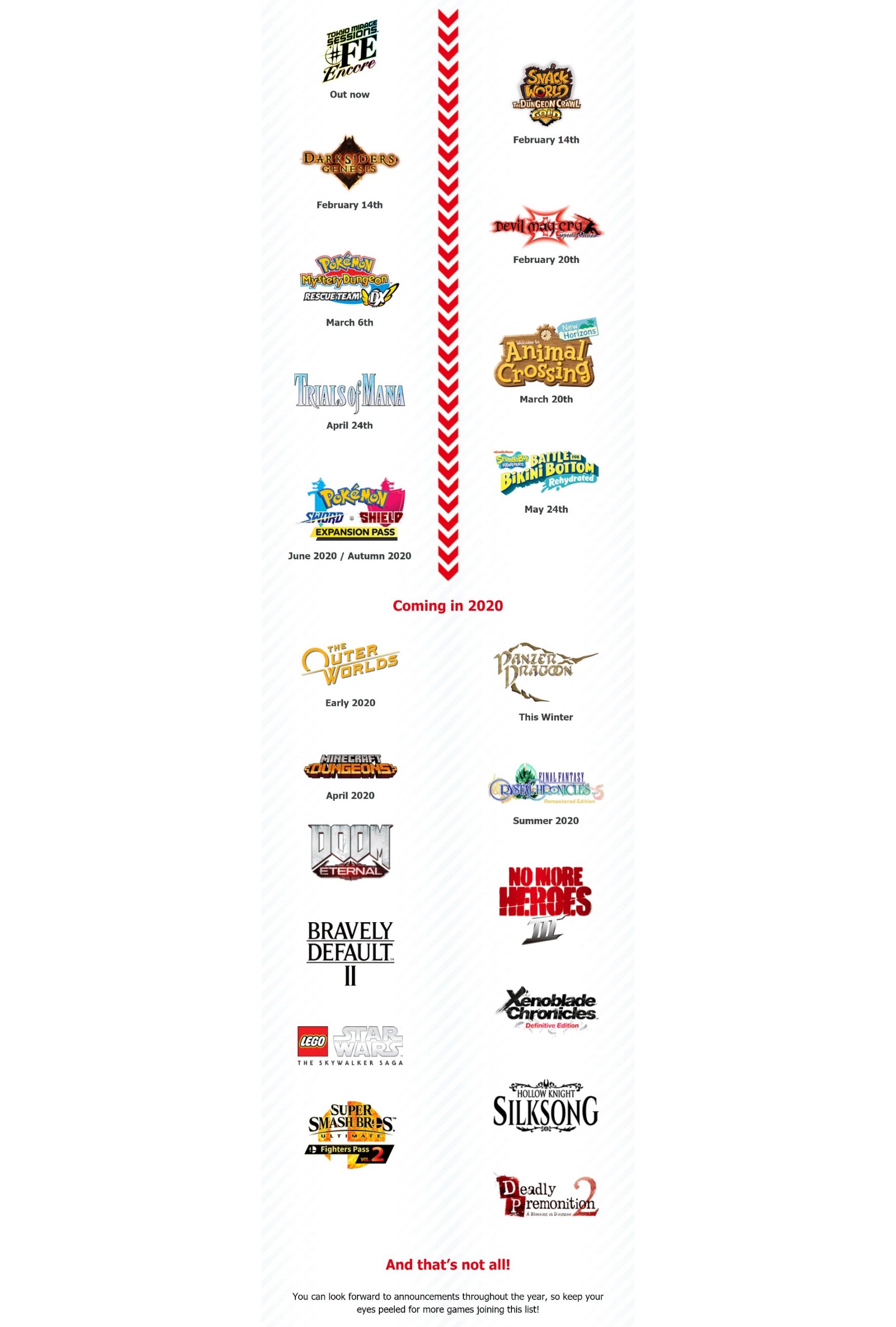 Quite a few of the Switch releases listed don't have dates confirmed as yet.
But will supposedly be arriving this year.
This includes The Outer Worlds, Hollow Knight: Silksong and the game I'm most excited for Deadly Premonition 2: A Blessing in Disguise.
If you're unfamiliar with Deadly Premonition, the original is available on Nintendo Switch now titled Deadly Premonition Origins.
Bravely Default II and Doom Eternal
Other hotly anticipated Switch releases like gory shooter Doom Eternal and RPG sequel Bravely Default II also remain with no confirmed release date.
Though the release date for the SpongeBob SquarePants: Battle for Bikini Bottom may not be accurate.
THQ Nordic hasn't made any announcements, and the 24th May 2020 is a Sunday.
Usually games launch on Tuesdays or Fridays.
---
Make sure you stick with Any Button Gaming for the latest gaming news and features from around the world. And, to hear more of our latest updates, why not follow us on social media? We're on Facebook, Twitter, and Instagram.