This advanced controller is now available at the usual gaming hardware retailers in the high street and online at around £160 in the UK (or direct from Microsoft). For the price you get over 30 advancements delivered by this pro-gaming PC-friendly hardware sequel.
Highlights of the new design are that it features the following:
adjustable-tension thumbsticks
shorter hair trigger locks
wrap around rubber textured grips
new re-engineered interchangeable components
up to 40 hours of rechargeable battery life via internal battery
case/dock has built-in charger
3x custom profiles and 1x default profile on the controller
voice commands
customisation via the Xbox Accessories app on Xbox One and Windows 10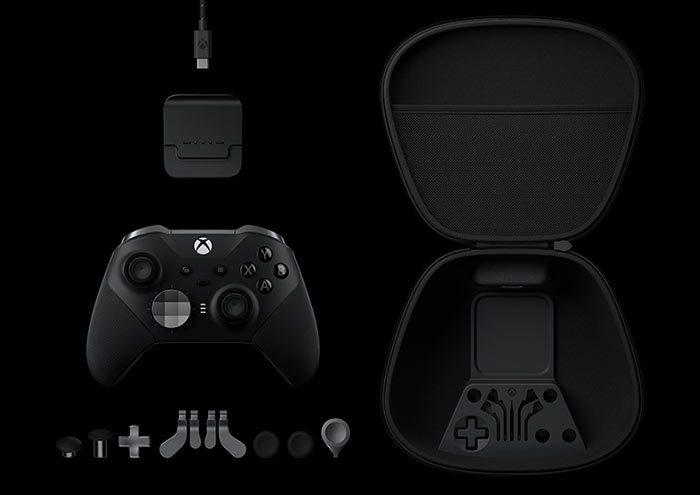 When you buy this controller, you will find quite a number of components in the box. Alongside the controller and case, you will also be getting:
Set of 6 thumbsticks:
Standard x 2
Classic x 2
Tall x 1
Wide Dome x 1
Set of 4 paddles:
Set of 2 D-pads:
As well as a Thumbstick-adjustment tool, Charging dock & a USB-C cable.
That is quite a lot of kit!
Of course the advancement in price compared to the original Elite Xbox Wireless Controller(£120) might put some people off. After all £160 is almost the price of a console bundled with a standard controller.
Serious gamers might find the extras and advancements irresistible. Some Pros and PC gamers have been known to splash similar amounts on peripherals.
What's your take on the Elite Controller? Perhaps you had the series 1? What did you make of it? Was it worth the investment and is the Series 2 worth the higher price tag?
Let us know in the comments and as always for all things gaming stay tuned to ABG.
---
As always, don't forget to like and join our Facebook Page/Group, and follow us on Twitter to stay up to date with all of the latest News, Blogs, and more. And if that's not enough, why not follow us on Twitch or Instagram as well.