The Irregular Corporation and developer Foxy Voxel have today released Going Medieval in Early Access priced at £19.99/$24.99/€22.99. Build, manage and survive in your own kingdom.
Going Medieval is available today on Epic Games Store, Steam and GOG.com, with a 10% launch discount available until 8th June on Steam and GOG.com, and for the duration of the Epic Mega Sale on Epic Games Store.
Stake your claim in this colony building sim and survive a turbulent Medieval age. Construct a multi-storey fortress in a land reclaimed by wilderness, defend against raids, and keep your villagers happy as their lives are shaped by the world around them.

Steam
Having been chiseled into shape by numerous beta tests and the feedback of a passionate and dedicated player community, Going Medieval offers a uniquely addictive blend of building, management and survival right from day one.
But Foxy Voxel has much more to offer in the weeks and months to come, and has now shared a roadmap confirming a selection of the improvements and new features planned for the game's Early Access period.
Rebuild Post Plague
Going Medieval transports players back to the Dark Ages, as the known world recovers from a calamitous plague.
Survivors have emerged from society's ashes, and it's up to you to help them settle in a dangerous land reclaimed by nature.
Build your people a home, help shape their lives, and protect them from animals, bandits, and other dangers in a lawless post-calamity age.
Plan, create and build your settlement using a variety of materials at your disposal. Protect your settlers from the elements, including hunger, enemies and even the weather, and defend your colony from rival factions by building impenetrable, multistorey fortresses or strategically placed archers and traps.
Observe your settlers, all with unique histories and agendas, to figure out how to best serve them – happy people are productive people, after all.
Going Medieval puts you in control in one of the most dark and dangerous periods of humanity's history – navigate the dangers or perish like so many before you. With almost infinite replayability, no two playthroughs are the same.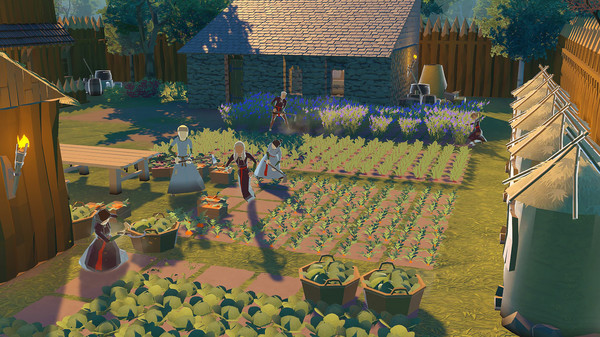 Q & A With The Developers
Why Early Access?
"We've worked on Going Medieval for some time already and, while we feel that it's playable and fun (even in its current version), there are still advanced mechanics and systems missing for it to become a fully-rounded experience. By offering the game to a larger audience before its completion, we can receive essential feedback to help us balance out the experience and make the final game the best it can possibly be."

Approximately how long will this game be in Early Access?
"In order to create and refine the features that we have planned for the final version of Going Medieval, we anticipate it being in Early Access for at least a year."

How is the full version planned to differ from the Early Access version?
"We have a lot planned for Going Medieval during the Early Access period, and will be sharing a full roadmap of features that will be added to the game soon."

What is the current state of the Early Access version?
"The game has the following systems implemented: building and crafting, combat and defence mechanics, villager behaviour and personalities, resource management, flora and fauna simulation, and production systems."

Will the game be priced differently during and after Early Access?
"The game will be fully rounded, with a lot more content by the time it is released. As such, there will be a slight increase in the price."

How are you planning on involving the Community in your development process?
"Player feedback is the most important reason why we are releasing our game in Early Access! Please join us on the Going Medieval Discord to let us know what you think of the game and help us shape it during development. You can also leave feedback on the Going Medieval Twitter page, or via the Steam Community hub right here."

Foxy Voxel on Steam
---
Be sure to stick with Any Button Gaming and our partners at Stush Gaming for the latest gaming news, reviews, and features from around the world.

And if you wanna show your allegiance to ABG, you'll be happy to know we have our own merch! All proceeds go to helping fund the site.

Don't forget to drop us a comment down below.
Human, friend to the animals and serial procrastinator.
Pessimistic Pompey fan and chocolate addict.
@Zeus_Eagle on Twitter