Call of Duty: Black Ops Cold War Trailer debuts!
After teasers, cipher decoding and an elaborate Easter Egg hunt, we finally have a trailer for Call of Duty Black Ops Cold War (God that's a mouthful), as well as pre-order bonuses, and a multiplayer teaser.
Set in the early 1980s, the campaign reunites players with Mason, Hudson and Woods as they race against time to find a Soviet Spy, codenamed 'Perseus'. The game itself will take you to exotic locations like East Berlin, Turkey, A Soviet KGB Headquarters and Vietnam. You'll also meet historical figures like Ronald Regan (The actor!!!) as the Cold War goes hot.
Who's Vice President Jerry Lewis?
An interesting new feature is set to debut in the game. In a first for Call of Duty, you'll be able to fully customise your playable character, codenamed 'Bell' however you want. This includes skin tone, name and gender. The option is also there to leave your character genderless, meaning you'll be addressed as They/Them in-game.
The direct sequel to Call of Duty: Black Ops, CoD: BOCW will offer players a choice of abilities that will affect how you play the story like sprinting for longer and aiming quicker down the sights. Also, in-game choices on how an operation is carried out or how an enemy is dispatched will directly affect the ending of the game.
It's dark… and I'm wearing sunglasses
We are also getting a multiplayer mode that promises vehicular warfare plus a welcome return for 'Zombies' mode. A full reveal for Multiplayer is coming 7th September, but you have to wonder what this means for Call of Duty Warzone.
A date for the beta has not been released but it should be noted that PS4 owners get access 5 days before anyone else, sorry Xbox users, you're left out in the cold again, but the beta only applies to digital pre-orders only!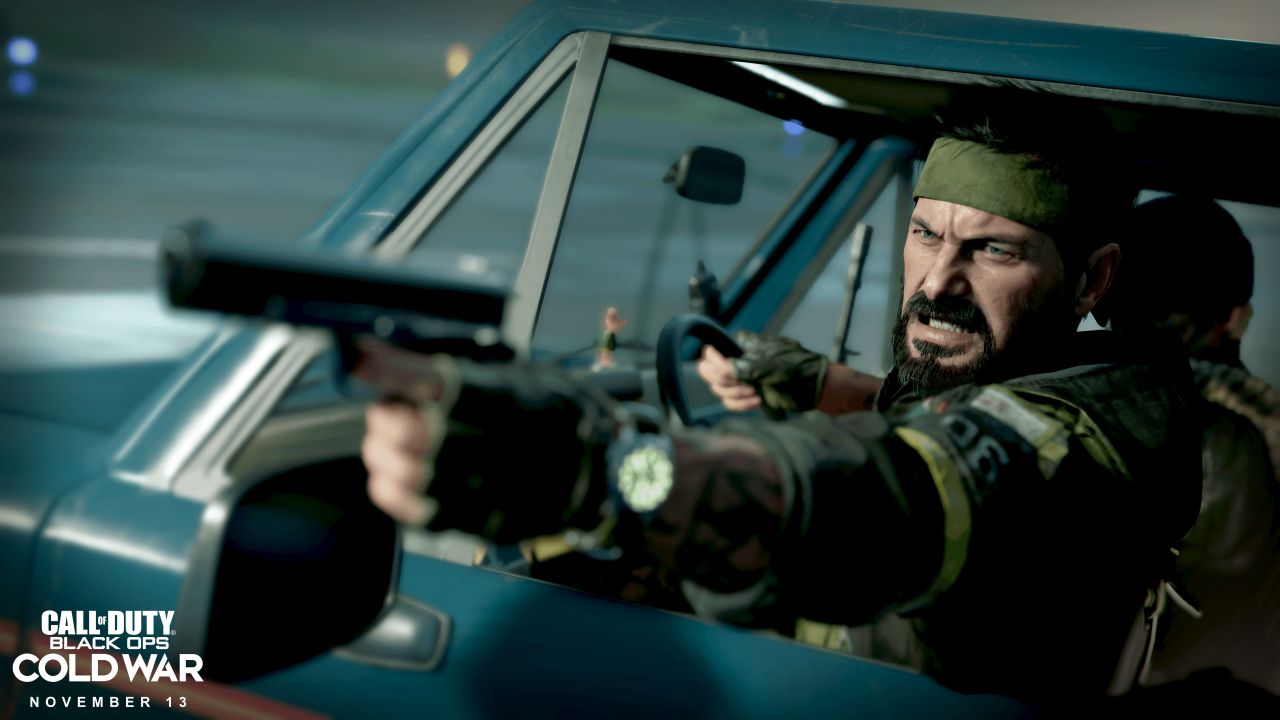 Don't shoot and drive kids
Speaking of Pre-Orders, as with any Call of Duty release you have 3 options to choose from!
The Standard Edition gives you access to the beta and the Woods Operator pack to use in both Modern Warfare and Warzone (Both of these are pre-order only!). You also get the Confrontation Weapons pack… so that's something. The Standard Edition will cost you £59.99
The Cross-Gen Bundle gifts you everything the standard version has plus allows you to download the PS5 or Xbox Series X version of the game when that becomes available, all for the low price of £69.99.
And finally, we have 'The Ultimate Bundle' which will set you back £79.99. You get everything both previous bundles have plus The Land, Sea and Air Pack, 3 Operator Skins, 3 Vehicle Skins, 3 Weapon Blueprints and a Battle Pass Bundle (1 Season Battle Pass + 20 Tier Skips).
No word on when the PS5 or Xbox Series X versions will launch, but its highly likly to be before Christmas.
Call of Duty: Black Ops Cold War releases 13th November… Friday the 13th for those paying attention… November's going to be a good month for gamers!
---
Related Content
What we learned from Call of Duty teasers
Infinity Ward to Ban More Call of Duty Cheaters
Train Coming to Call of Duty: Warzone
How Call of Duty Zombies Was Shaped By Jason Blundell
---
Make sure you stick with Any Button Gaming for the latest gaming news, reviews, and features from around the world.
Fancy being social? We're on Facebook, Twitter, and Instagram. Or if videos and/or podcasts are more your thing, why not subscribe to our YouTube and Twitch channels and track us down on Spotify. And if you wanna show your allegiance to ABG, you'll be happy to know we have our own merch! All proceeds go to helping fund the site.
Don't forget to drop us a comment down below and keep gaming!