After all the fun of E3, it looks Nintendo had one more surprise for us, and it's that the great British gameshow Bullseye is coming to Nintendo Switch.
Now if you weren't born in the 1980s/1990s or don't live in the UK, then let me explain. Bullseye was a game show hosted by the legendary Jim Bowen who has joined by the mascot of the show 'Bully' (who was a Bull). Contestants, usually from landlocked cites around the Midlands, consisted of an amateur darts player and a quizzer competing for 'great' prizes in a series of dart based games. It also had one of the greatest intros ever.
Now if you managed to win you'd win a 'star prize' which was sometimes a speedboat, bearing in mind the closest bit of sea to the Midlands is about 105 miles away. However, if you lost, Jim would say the immortal words of (All together now!) 'Let's have a look at what you could've won!' and bring out the prizes you weren't going home with…bit harsh I know. If you don't believe me, take a look at this clip below and bear in mind… it's the 80's
Right, are we all caught up? Good, back to the game.
Publisher Sabec has form when it comes to turning bar games into video games, so it's no surprise they gone for Bullseye. Bullseye will test your dart throwing ability using the Joy-Con's motion controls and your general knowledge as you try and beat the other players. Up to four of you can play to see who score the most points and win! Sorry, you don't win a speedboat.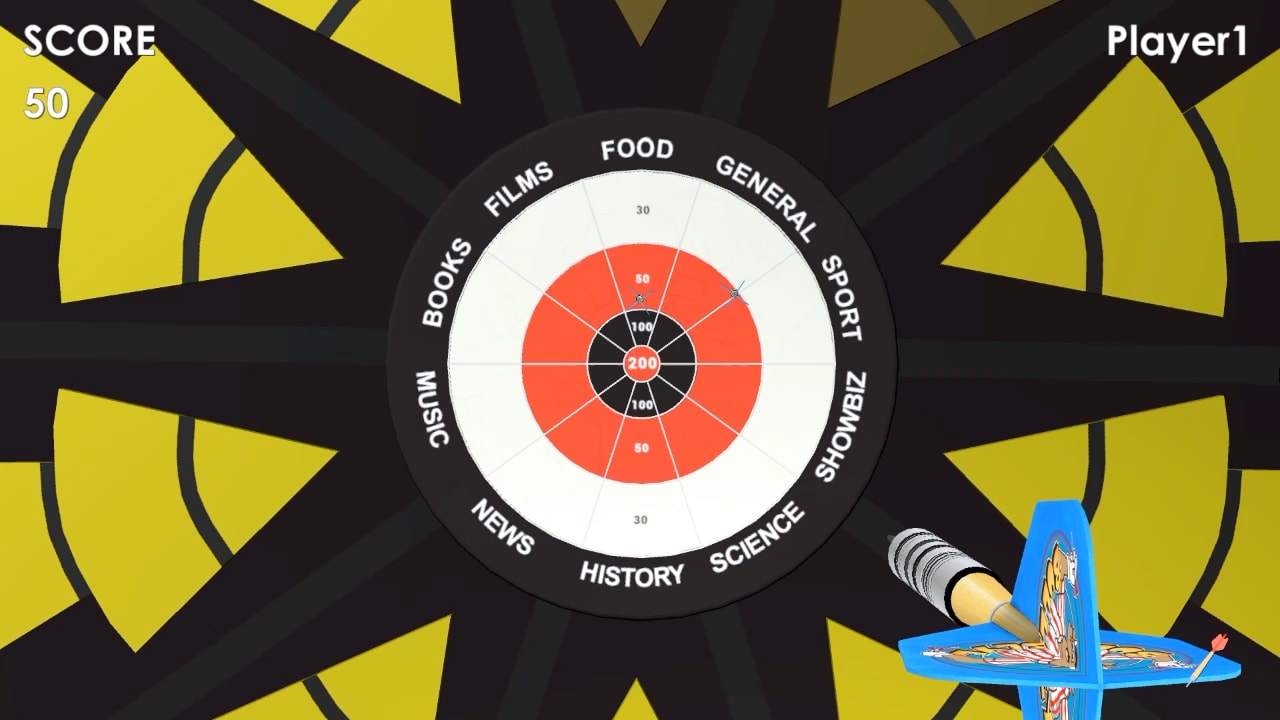 You may want showbiz, but you rarely get it.
Bullseye launches TODAY (17th June) for £12.99 over on the Nintendo eShop. Now, where's my bendy bully??
---
Make sure you stick with Any Button Gaming for the latest gaming news, reviews, and features from around the world.
Fancy being social? We're on Facebook, Twitter, and Instagram. Or if videos and/or podcasts are more your thing, why not subscribe to our YouTube and Twitch channels and track us down on Spotify. And if you wanna show your allegiance to ABG, you'll be happy to know we have our own merch! All proceeds go to helping fund the site.
Don't forget to drop us a comment, keep gaming, and have a nice day!
Literally a giant. Living on the Border, trying to get through my Netflix/Disney+ lists whilst also completing the pile of games I have yet to play