So, what do you get if you make a space monkey, Tetris and Hole In The Wall? You get Bonkies, a local cooperative player game developed by Studio Gauntlet and published by Crunching Koalas, where you use cute as hell space monkeys to make Tetris shape blocks fit in designated shapes. It's a simple premise but sometimes the simplest ideas are the most enjoyable, especially when it comes to couch coop games. Let's see if its any good and whether it's worth a buy.
Gameplay
Like I said you are using your Bonkies (Space monkey) to arrange Tetris style blocks that you retrieve from a pair of conveyor belts one at a time and have to use your one big robotic arm to carry them to a template and recreate that shape. The game consists of a large number of levels, each with three timed stages which increase with difficulty each time, what's quite cool is you get to carry over any time remaining from your current stage on to the next so getting those easier puzzles solved early is a must and easier with up to three friends. Each level has a series of banana challenges which are time-based lending to a tonne of replayability for all of you completionists. However, even with two separate campaigns for solo and couch party play during the singleplayer missions, everything feels that much more difficult and slow. The game is perfectly enjoyable solo but its heart is in its couch coop.
Audio & Visual
Bonkies art design is actually really nice and colourful, detailed and something appealing to both kids and adults. Those Bonkies are also cute as hell so there's nothing really to complain about. The soundtrack is nice and chilled but a little "ear wiggy" meaning after an hour or so of play you will have the synthetic melody droning on in your head for hours to come.
Performance
Bonkies plays exactly how you would expect. Its animations are buttery smooth and there was not a single graphical bug in sight. Bonkies isn't a hardware intensive game so flawless performance is expected and unlike some of the game's predecessors, it does deliver on your expectations. From what I can see performance is great across all platforms.
R

eplayability & Price
Obviously, everyone's mileage will vary depending on how difficult you find the puzzles but with separate campaigns for cooperative and single-player, there's definitely a good chunk of replayability which with all of the banana challenges can extend to even longer. All in all, you will be getting a possibly huge bundle of gameplay for your £12.99/$14.99 investment.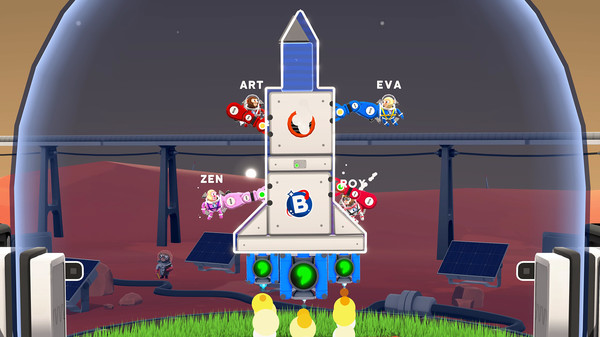 Conclusion
Bonkies is a fun and well-presented party game that is infinitely more enjoyable with friends but offers a perfectly entertaining time for solo players. With a tonne of replayability for completionists and its two campaigns, you will be getting a decent bang for your buck. The only major criticisms I have is the soundtrack that will bury itself in your head and plague you for hours after. The puzzles will get a tad repetitive later on but the length of time it takes to become a choir is greatly shortened when playing solo. Unless you are playing with friends or super into puzzles you may drop off before completing the game. It would of been nice to have online servers especially during a time where we are mostly in lockdown and unable to have friends over to play games but, for just over a tenner you should be more than happy with your purchase.
---
Make sure you stick with Any Button Gaming for the latest gaming news, reviews, and features from around the world.
Fancy being social? We're on Facebook, Twitter, and Instagram. Or if videos and/or podcasts are more your thing, why not subscribe to our YouTube and Twitch channels and track us down on Spotify. And if you wanna show your allegiance to ABG, you'll be happy to know we have our own merch! All proceeds go to helping fund the site.
Don't forget to drop us a comment, keep gaming, and have a nice day!
Summary
Bonkies offers a huge bundle of enjoyment with friends and an adequate experience for solo players. The lack of online servers is a drew back and its repetitive gameplay will restrict some peoples time of enjoyment. 
Recommended if you have kids as it can get insane and be great family fun.
Gamer, dad and supporter of @SpecialEffect Charity. Dark Souls fan and gooner!